Septic System Saver
®

Products
Septic System Saver
®

Septic Remediation Kits
Septic System Saver®
Model Number: S3-100
UPC: 793573194879

Good Treatment, Fast Restoration
Treatment capacity: 4 people Max.
6′ power cord
20′ air line
100 watts of power (1.0 amp, $5-$7 per month to operate)
1 Meter of Bio-Brush™
Quiet operation – 39 dB
Warranty – 12 months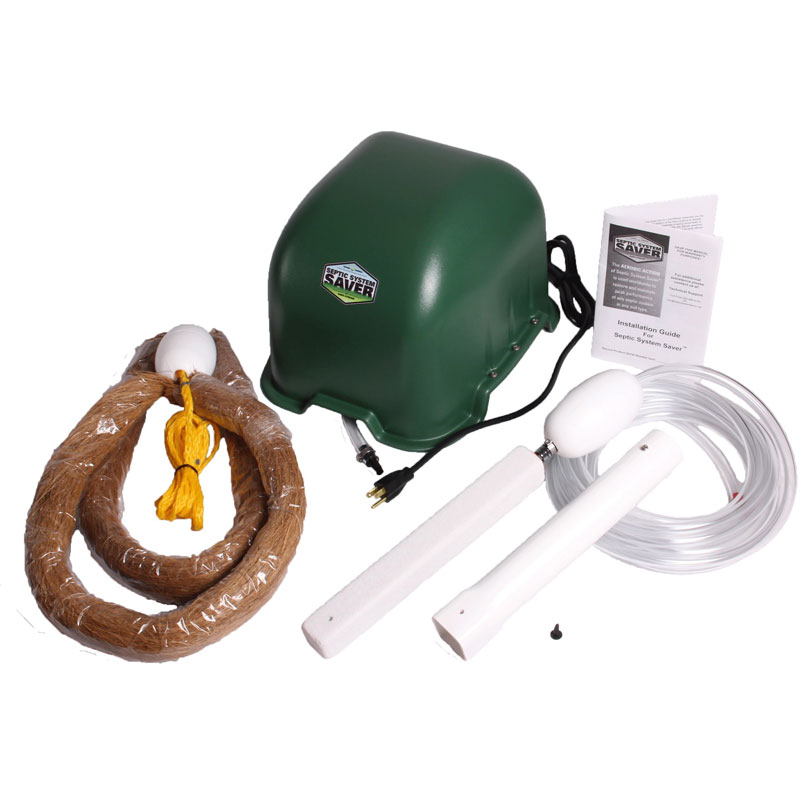 Septic System Saver® Classic
Model Number: S3-101
UPC: 793573194862

Better Treatment, Faster Restoration
Treatment capacity: 6 people Max.
6′ power cord
20′ air line
115 watts of power (1.0 amp, $6 – $8 per month to operate)
2 Meters of Bio-Brush™
Quiet operation – 39 dB
Warranty – 12 months
Septic System Saver® Pro Grade
Model Number: S3-102
UPC: 793573062944

Best Treatment, Fastest Restoration
Treatment capacity: 8 people Max.
6′ power cord
20′ air line
150 watts of power(1.0 amp, $8 – $10 per month to operate)
4 Meters of Bio-Brush™
Quiet operation – 39 dB
Warranty – 24 months
Septic System Restorer and Maintainer:
Eliminates foul septic odor and pooling liquid in septic drainfield, prevent backflow and back ups.
Fixes sluggish drains, gurgling pipes and toilets that are slow to flush.
Eliminates the need to replace your septic system.
Easily installs in an hour or less with simple hand tools.
Works on all system types: drainfields, drywell/seepage pits, mounds, sand filters, chambers, and cesspools.
Covered by US Patents: 7,718,067 7,264,727 7,429,320 7,468,135 – other patents pending
Septic Tank Riser Kits
Bring your septic cover to the surface so it is easy to service the tank. A septic tank riser kit makes installation of Septic System Saver even easier!
The AEROBIC ACTION of Septic System Saver
®
is used worldwide to restore and maintain peak performance of any septic system in any soil type.